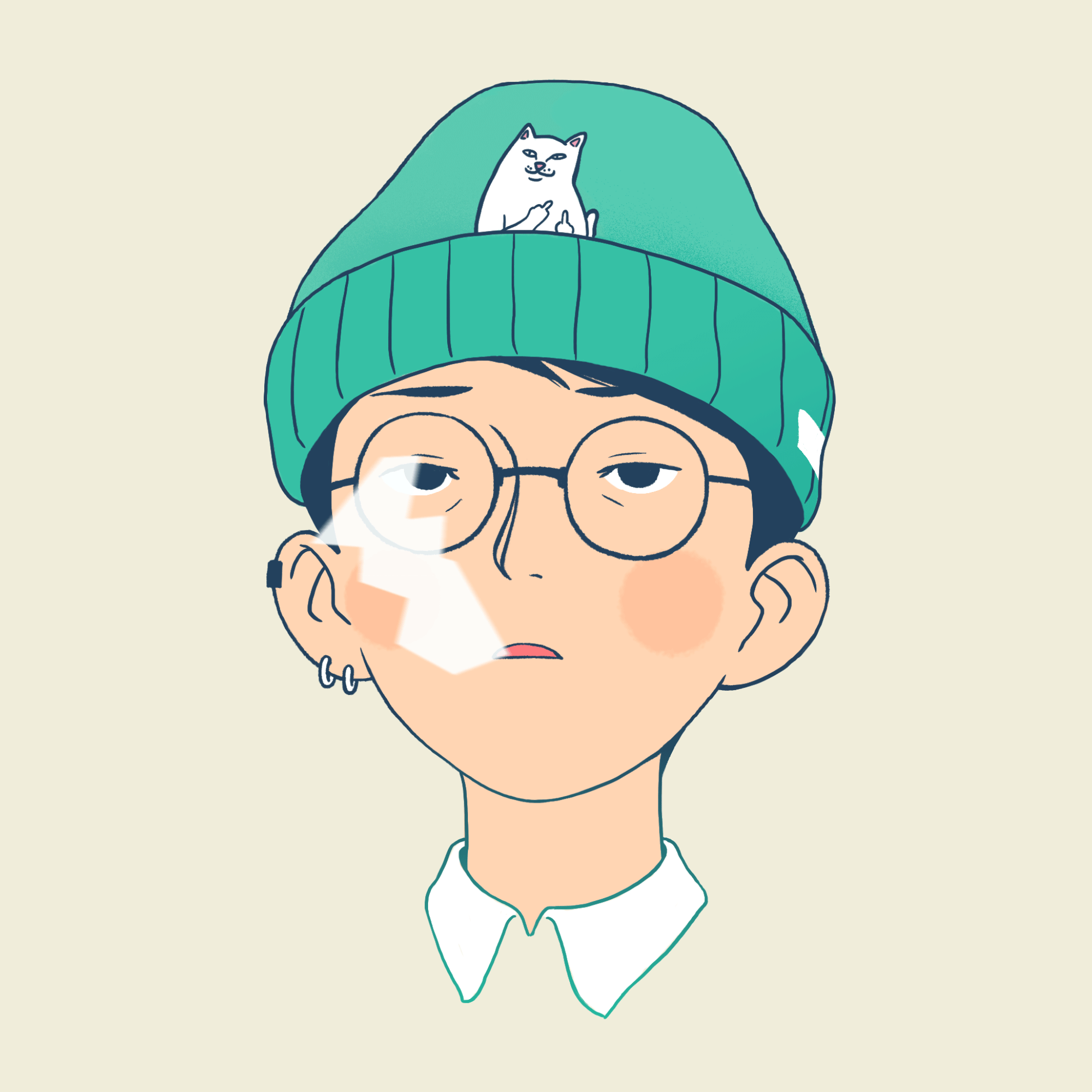 Kino Jin is a New York based animator, who was born and raised in China.
She received her BFA in Animation at Maryland Institute College of Art and graduated from Pratt Institute with an MFA in Digital Arts.
​
Feel free to say HI at
​
​
​
EDUCATION
​
2018 - 2020 MFA DIGITAL ARTS (GPA: 3.80) Pratt Institute, New York, NY
2015 - 2017 BFA ANIMATION (Magna Cum Laude) Maryland Institute College of Art, Baltimore, MD
2012 - 2014 ANIMATION Nanjing University of the Arts, Nanjing, China
​
EXPERIENCE
​
2012 - Present Freelance Illustrator/Animator/Designer
Clients include Recreyo - Youtube, Beijing Cheerland Entertainment Organization, Jiangsu Education Press, Nanjing SeaLandConsulting Service, Qingdao Eastan Bio-techinology - Black Nose, Baicizhan, Tony Studio - Hairport.

Collaborates with directors and clients to create brand-driven designs, storyboards, style-frames, character designs, and 2D animations
​
2021 - present Drawn Animator CBS - Late Night Cartoon, INC, NEW YORK, NY​
​Tooning Out the News Season Two
​
2020 Animation Assistant BABBLE BUBBLE DIRECTED BY RICHAN LI, BROOKLYN, NY​
Cleaned up lineworks and colored the rough animations in Clip Studio Paint

Polished and modified animation assests

Awards: Winner of Student Experiment Shot - Los Angels Animation Festival
Winner of Best Animation Shot - Rome Indepent Prisma Awards
Winner of Best Student Short - Changing Face International Film Festival
​
2018 - 2020 Graduate Assistant PRATT INSTITUTE, BROOKLYN, NY​
Designed and distributed department announcements

Created holiday-related animations for the department's social media accounts

Created 2019 + 2020 graduation screening posters and 2019 graduation screening animation
​
2017 - 2018 Animator FLICKERLAB LLC, BROOKLYN, NY
Created character designs, background designs, storyboards, style-frames, and animatics

Animated 2D characters and effects in Animate CC

Worked for clients such as Bleacher Report, Condé Nast, CVSHealth, Tax March, WingaDoos LLC, and Center for Human Rights
in Iran
​
2017 Graphic Designer VIDA GRAPHICS & SIGN, NEW YORK, NY
Tasks include: promoting social media, designing posters, signs, and booklet cover
​
2016 Teacher Assistant FOREVERMARK INTERNATIONAL ART EDUCATION, SHANGHAI, CHINA
Organized social media content and acted as an artist's assistant
​
2016 Archive Intern THE HERMAN MARIL FOUNDATION, BALTIMORE, MD
​
2015 Concept Art Intern SHANGHAI KINGNET TECHNOLOGY CO., LTD, SHANGHAI, CHINA
Participated in the preproduction department, created various assets and character designs
​
SOFTWARE CAPABILITIES
​
Adobe Creative: Photoshop, After Effects, Animate, Premiere, Illustrator, Audition, Indesign

2D: TVPaint, Storyboard Pro, Toon Boom Harmony, Clip Studio Paint

3D: Autodesk Maya, Nuke, Zbrush, Blender
​
LEADERSHIP
​
2013-2014 Propaganda Department Minister Media Arts and Communication, NUA
Led logo and slogan designs for competitions and student activities
​
HONORS & AWARDS
​
2019 Pratt in Venice Scholarship, Pratt
2018 - 2020 Merit Scholarship, Pratt
2015 Competitive Scholarship, MICA
2015 Transfer Scholarship, MICA
2013 Excellent Cadre of Student Union, NUA
2012 Excellent Cadre of Student Union, NUA
​
​
EXHIBITIONS
​
Group Shows
2019 PRATT IN VENICE 35th Anniversary Exhibition Steuben Gallery, PRATT
2018 Move Me Mediated Digital Arts Gallery, PRATT
2018 Slow Art Day The University Museum Art Gallery, the University of Hong Kong
2017 Graduation Exhibition Meyerhoff Gallery, MICA
2016 Puppet Show Exhibition Rosenberg Gallery, MICA
2015 Foundation Exhibition Meyerhoff Gallery, MICA
2015 MICA Transitions Meyerhoff House, MICA
2015 Spring Exhibition Main 0 Gallery, MICA
Juried Shows
2019 February People's Choice Salon Show Greenpoint Gallery, Brooklyn
2019 Pratt Pro Imagination Expo ARC Building, Pratt
​
​
PUBLICATIONS
2019 Blazer, Liz. Animated Storytelling: Simple Steps for Creating Animation & Motion Graphics (2nd Edition).
Chapter4 - Storyboarding, page 86